Helloooo! It's been awhile since I've posted here, and certainly been awhile since I have give you all an update on my home!
As you may remember, we were remodeling our downstairs powder room and doing a few small kitchen updates. Unfortunately, the DIY bathroom work led to a flooded house and us having to completely re-do our downstairs!
It's been a stressful couple months, but we've finally returned to a usable downstairs. Before I reveal the finished product, I thought I'd introduce to our living room! It's hands down the space we use the most in our home. While we'd updated several of the pieces from our first-apartment cheap-o furniture, we haven't really spent much time finishing it until now.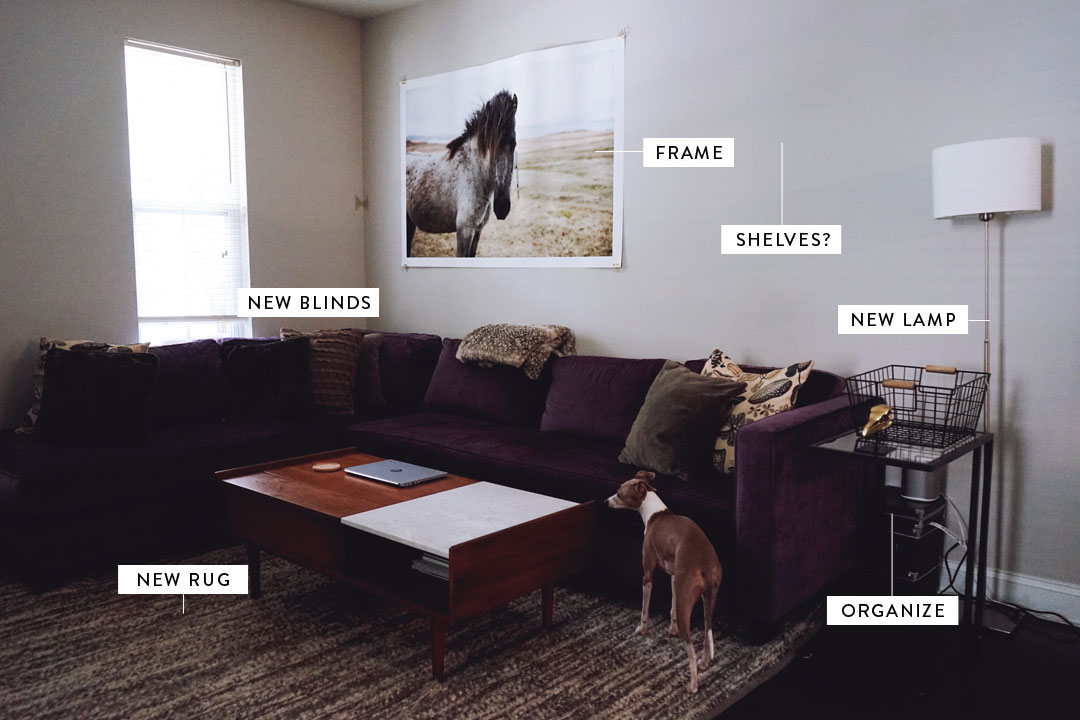 Our living room is essentially one long room that combines the living and dining area before leading directly into the kitchen. The front area is our living/tv watching area, and also where I usually do work. We've already upgraded several of the pieces here - including our fabulous purple sectional, and our coffee table. The rest of the area just looks a bit disjointed and needs some polishing. I love the giant photo I blew up from our Iceland trip, but I need to build out a frame for it and potentially hang some shelves next to it or another art piece. We also need to organize the end table area and upgrade from our $20 Ikea lamp! The rug purchased is actually pretty new - but unfortunately got destroyed in the flood, so I'm on the hunt for another one that will better match our new flooring!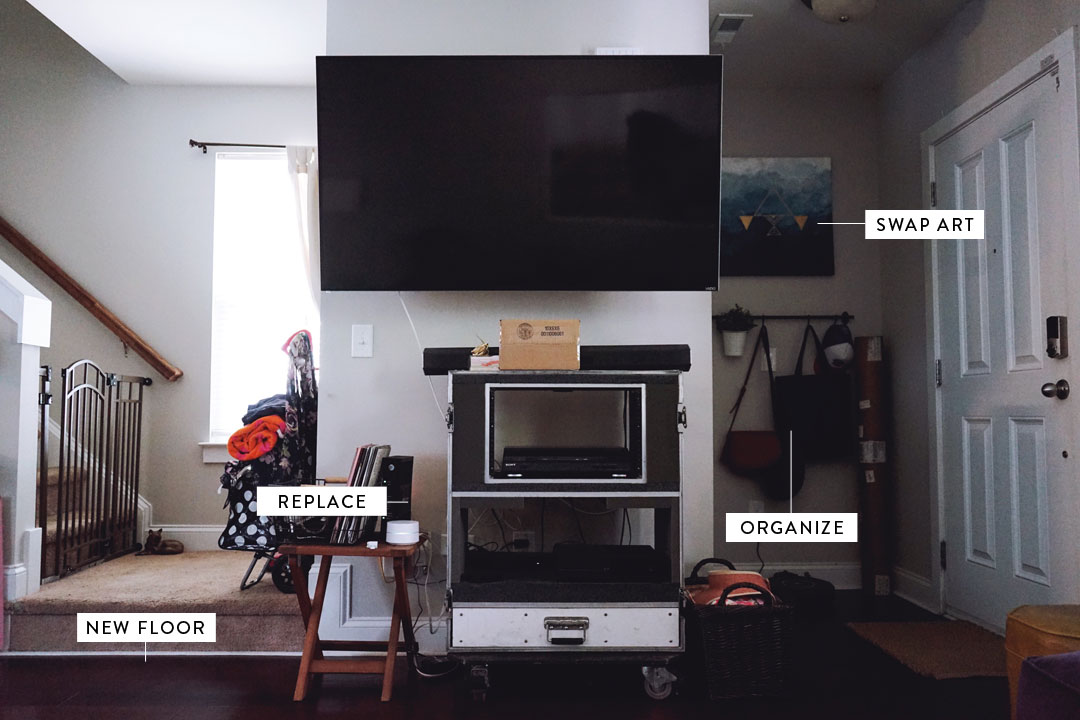 Across from the couch is even less polished...We upgraded to a nice new TV around Christmas last year, but haven't gotten around to fixing up the area around it! We've temporarily been using Eric's old roadcase from his band days as our entertainment center. While it does fit everything perfectly and I appreciate his ingenuity, it looks like garbage (the sides are totally melted off thanks to this video). In the entryway I've got a cute hook setup from Ikea, but it often gets a little to jumbled up with our stuff, and that dark corner just doesn't do my painting by the fabulous Niki Litts any justice (I'll definitely be finding a new spot for this!). Finally, I mentioned our new flooring - we upgraded our scratched up fake wood floors for some wood-looking tile that looks SO much better in the space - I can't wait to show it off! You can get a sneak peak at the flooring here.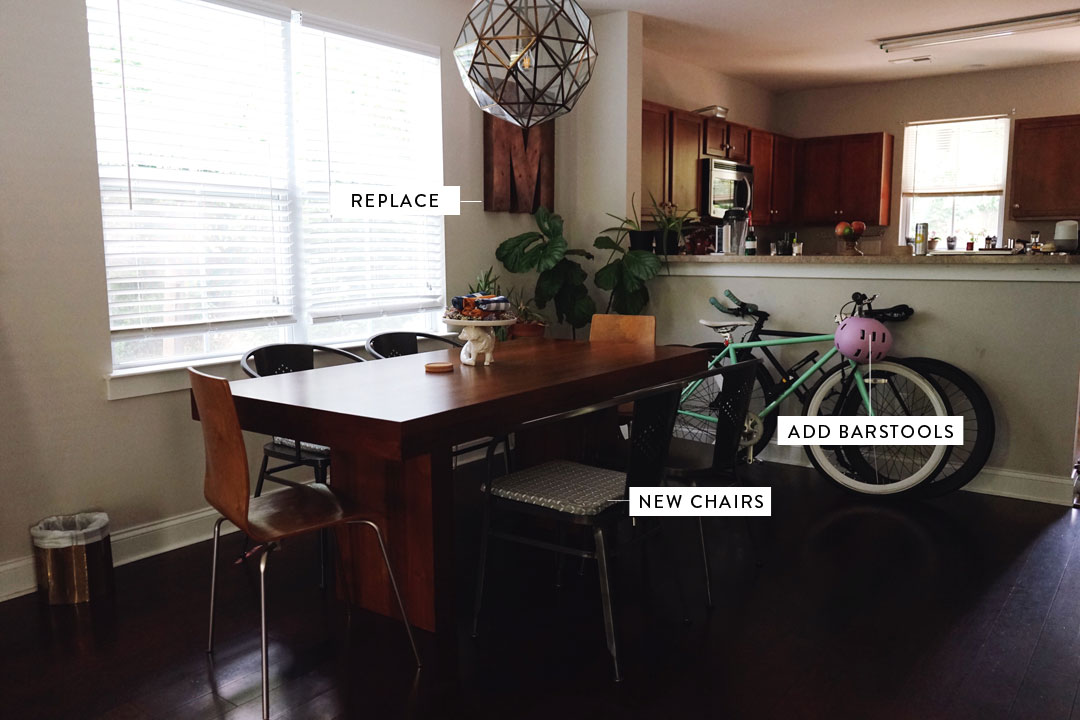 On the other side of the room is our dining area. Our table was a housewarming gift from my parents that has really been the inspiration for the entire look of the space! When we moved in we put some outdoor chairs and wooden chairs with it that don't really match (not to mention they are pretty uncomfortable and cold!), so those are definitely getting replaced. The only other item I have hung on the walls downstairs is that giant letter "M" in the corner, which Eric says belongs in a teen boys room - ha! I have to agree that it isn't quite our style, so that will be moving elsewhere too. Finally we'll be moving our bikes into another storage area so we can finally put some barstools at the bar instead!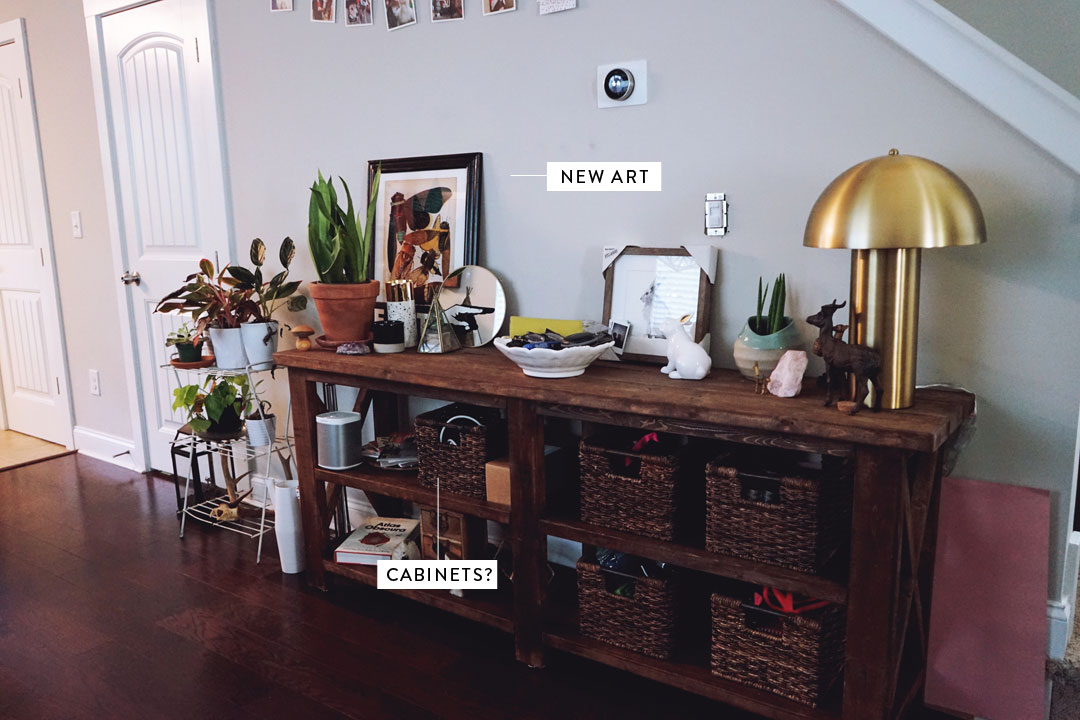 Across from the dining table we have a little banquet area and my plant stand. I had this wood console table custom made for us when we first moved to Charlotte. Our style has definitely shifted from the rustic look and I was eager to replace it, but it actually goes pretty well with our new floors so I think we'll be keeping it around a bit longer! Regardless, this area always looks a hot mess, and I think it's a little too open for all that we need to store, so I'll eventually replace these with some slick black cabinets and some new larger (but fewer) pieces of art. 
So that's our living room! I can't wait to share all that we have updated so far with you guys. Of course, we still have a lot to do, so please share with me any tips you have for making a room look more polished and less cluttered!
Sources: