I initially started this blog to help me get comfortable in talking about my own work. Sadly, even though I've been blogging a little over a year now, I haven't written a single word about any of my design work. So I've decided to venture out of my shell a bit today and talk about a quick and fun freelance project I wrapped up a few months ago, along with a few things I learned from this project.
Overivew
Liz Paradise is an amazing creative director living and working in the Triangle. She's worked on some massive ad campaigns, and if you take a look at her site, I guarantee you've seen some of it before. I get absolutely giddy now whenever I see one of her commercials come on tv. So giddy, I've yelled out to Eric "I made her website!" while we were watching Hulu at least 5 times.
Liz came to me because despite working in the industry for more than two decades, she still didn't have a portfolio website. She needed one fast too, as in a week and a half fast. So after signing her contract we immediately got started. For the design, we went with something incredibly simple with a few pops of color that would let her work stand out and do all the talking. The homepage is a one-pager, where you can quickly grab all the info you need, from a quick glance at her work, to her bio, to her contact information. While the homepage is quite simple, Liz needed a pretty complex set of layouts for her portfolio pieces. Many of her projects contained vastly different pieces, whether it was video, print work or social media screenshots. I set up several different layout options for her in the backend of the site (WordPress), so that she could easily adjust based on the project type, and of course be able to add in projects on her own in the future. 
Even though this was a quickie project, I wanted the site to be one that would last her a couple years. As I mentioned, this site is built on WordPress so that she can easily add in future projects. I also made sure the site was responsive, so that it can be properly viewed on any device.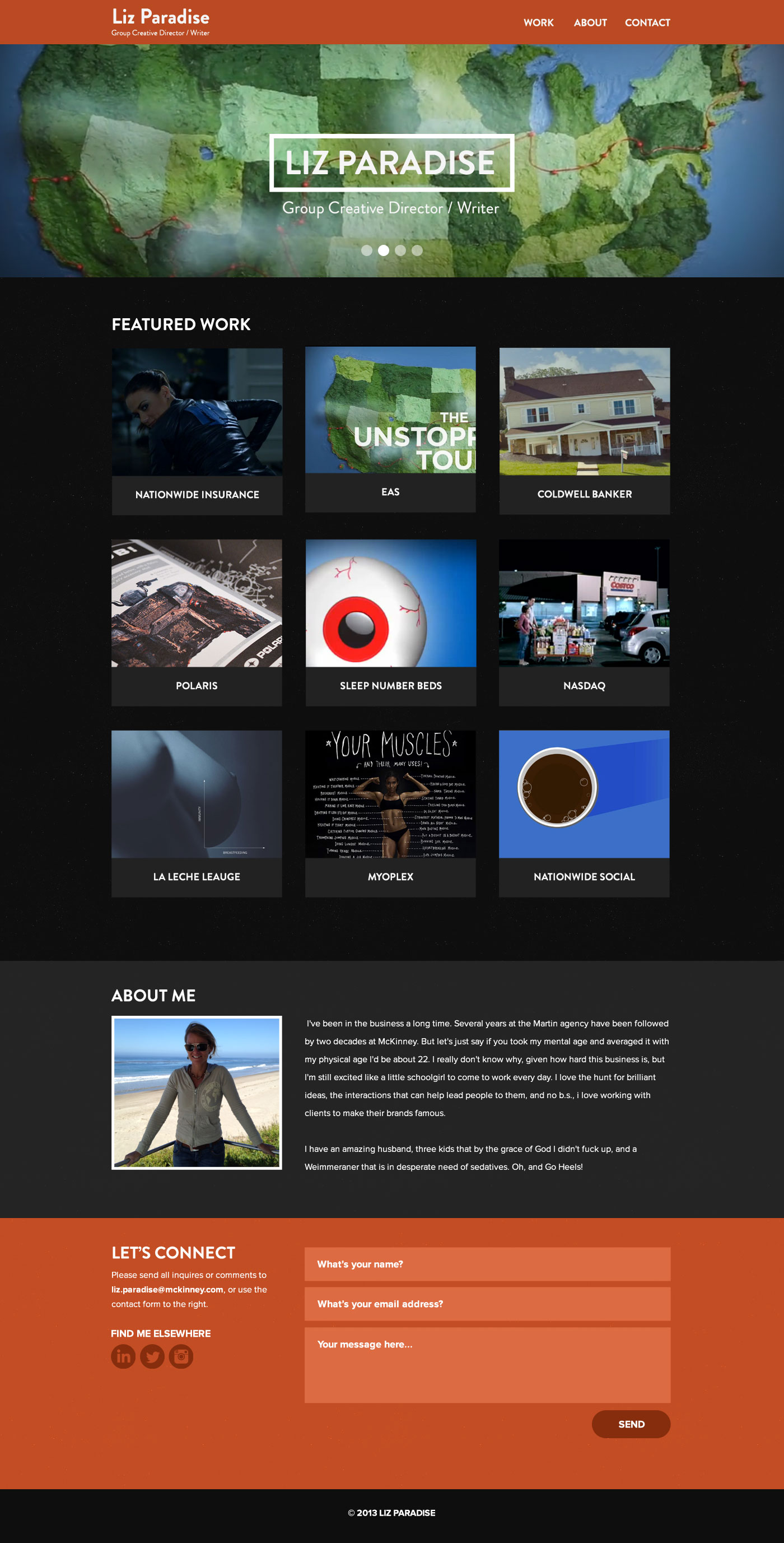 Lessons Learned
You can't do everything in a week
Can I design and build a simple site in a week? Sure. Can I design and build an simple site and handle all of the content and project management for a site in a week? Heck no, and I learned this the hard way (keep in mind, I also work full-time!). One great thing about my full-time job is that I work with specific project managers on each site. I get to focus solely on my design work, and when the developer and I are finished with the site, we don't have to think twice about all that content that has to go on the site afterwards. Since this was a portfolio site, I was handed a hefty amount of photos to crop, videos to upload to Youtube, and blurbs of content to figure out where to add in. While I've managed content for other freelance clients before, this was a lot of content that I had not factored into my initial time estimate. Thankfully, we were able to push back the go live date by a couple of days when I couldn't get everything done on time, and I learned a valuable lesson on my own personal time limits!
Watch out for items that should be kept "private"
 Before pushing the site live we decided to take down one of the projects. I didn't know this then, but the project was for a commercial that hadn't yet aired. One thing I forgot to take down when hiding the page? The YouTube video. Needless to say this (big) client found the video put up by a random girl from Durham, NC and was not too happy about it. Thankfully it was something that was easily and quickly fixed, and Ad Age had actually put up another copy of that commercial the same day, so I was in the clear!
Lesson learned from this snafu? I thankfully already have a clause in my contract protecting me from any trouble that may happen with content put on the website. Despite this, in the future if I even have an inkling that content should be kept private, I will talk with my client about it and save myself some stress. And of course I'll be sure to check all my bases when taking down or temporarily hiding content!
WordPress is lacking in responsive plugins
Since we were putting up this site so quickly, I had to rely on a few WordPress plugins to easily do some dirty work for me. While searching for plugins, I noticed there was a serious shortage of good responsive plugins, especially those regarding responsive video. The one I ended up using on this site got the job done, but it's clunky and still requires a good bit hardcoding, which is not good for any non-technical clients. Lesson learned? Unless I have time to build out custom responsive areas for the site, steer clear of WordPress for any video-heavy portfolios.