Holy cow - I just wrapped up co-organizing (and speaking at!) my first design conference on Friday!
FusionConf is the brain-child of my pal Bermon Painter, who I organize our monthly design meetup with. He approached me last year about starting a quarterly web conference each focused on a different topic. I said "YES! NEXT YEAR" he said "NO, IN A COUPLE MONTHS" and somehow put the entire thing together while I was traveling in Sweden. We held the first ever FusionConf in December as an experiment (I was basically just a volunteer), and it went great. I decided to jump in head first to help organize FusionConf: Design Edition for May 5.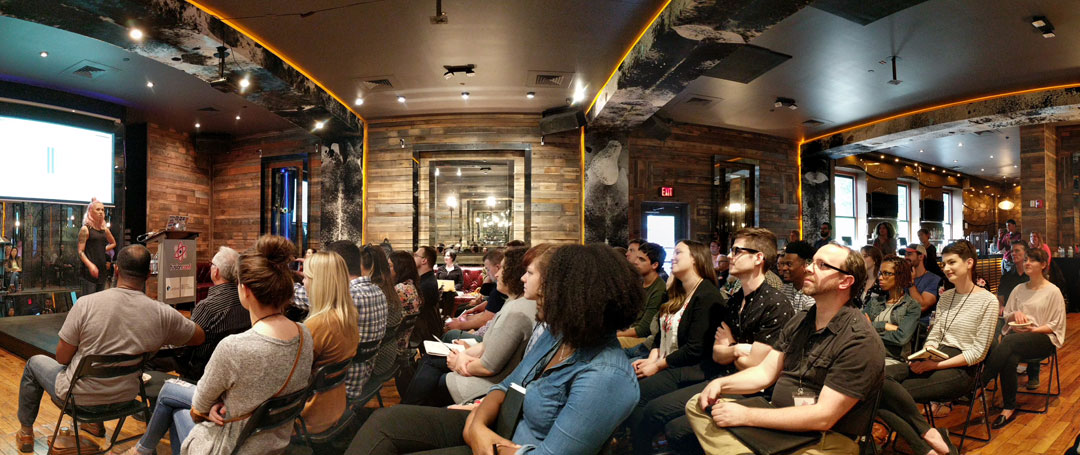 I'm proud to say the event was a success! We had over 100 sign up for tickets, six awesome talks, and received so many compliments from both speakers and attendees. There were definitely some moments in planning that got tough, but I'm so excited to start preparing for the next event. Here's a few of the lessons I learned while planning FusionConf:
Finding speakers is so much easier than I expected
We had a goal of 5-6 speakers for this event and it fell together pretty seamlessly. I primarily contacted folks that I knew were speaking/had awesome talks and that made things happen a little easier. I'll be forever grateful to this first round of speakers that took a chance on an event that hadn't ever happened before. 
I also threw my hat into the ring for speaking at this. At times I got so stressed and cursed myself for thinking it was a good idea to speak + organize, but I'm so glad I stuck to it. It was a great way to push myself out of my speaking comfort zone (i.e. more than 20 people), and put together a fun talk about my web design work. Not to mention I got to share the stage with some of my favorite people, like my pal Lenny. 
Half day events are where it's at
I have a huge amount of respect for folks that organize full weekend conferences (seriously Mike Jones, I'm giving you the biggest hug when I see you next). I can't imagine the amount of stress that goes into those types of events and organizing one is a full-time job. 
We tried a full-day event for FusionConf in December and it still felt a bit long. For the rest of the events we decided to try out the half-day model (which ya'll already know I loved after attending TinyGiant), and it couldn't have worked out more perfectly - no lulls, a great pace, and no one gets tired before the end! We began setting up for the conference at 8am and left by 5 - it was perfect!
Events like this cost money
I'm used to scrambling to put on events like our monthly meetup or Dine & Draw for free - so I was not used to the cost of an event like this one. When we did not immediately sell 100 tickets (or even 10) after announcing the conference, I was ready to let free tickets rain down on everyone and create a cheaper sponsorship package in order to get bodies in the room. Luckily, Bermon knows what he's talking about and told me "no". Add up speaker travel and hotels, venue costs, snacks, and all of the little things like printing, lanyards, stickers, etc. – and you've got an event that costs between $3-$5k (we luckily had a huge discount on our venue thanks to a sponsorship from Industry Coworking). 
The good news is that folks didn't seem to mind paying the price of a standard or last-minute ticket and we ended up walking away with some money that we can apply to our next event!
Marketing is hard - connections help
I thought for sure after having the event in December, building out a nice website, and marketing for a longer period of time time – ticket sales would go smoothly. WRONG. It turns out people are not magically waiting around to spread the word about your event. When I emailed schools about our student tickets or companies about sponsorships I was generally met with silence. Since we are so new and had very little content to work with, our social media following was pretty dismal. 
Thankfully, Bermon is a bit more connected than I am, and sent out some last minute emails in the week prior to the event that caught on. I'm also thankful people tend to procrastinate and bought tickets the week (and even the day before) the event. 
Hopefully with the praise we got from this event, along with photos and content we can now use for social media - the word will slowly start to get out there and marketing will get a little easier next time!
A cozy venue makes all the difference
The conference was in Industry Coworking's large event space - which was lovely! It's a former restaurant and is still set up like so - with a bar and rustic wood walls and nice decor (sadly, I think the space was bought out by another bar and won't be used as an event space anymore). 
Compared to our last conference held in an white office room, this was so much more inviting and looked fuller, even though we had a similar amount of attendees. It made a large difference in making the event feel more comfortable for everyone, and we'll definitely be on the lookout for a similar space for future events. 
Set up a place for the party to continue after. 
After our event had gone so well, attendees really wanted to continue mingling and talking with speakers. Unfortunately, the venue had been booked out immediately after our event ended and we had to leave by 5 - meaning attendees had to clear out of there and couldn't continue their conversations. Next time we will definitely plan to book out the event for longer, or have a place in mind to recommend folks head to. 
---
 I'm so excited to keep the momentum going for this event. FusionConf: Frontend will be in September of this year, and FusionConf: Holiday Edition (an end of year mixer for everyone) will be in December. If you have any interest in speaking, sponsoring, or attending one of these events, please get in touch!