Hello everyone! I know you're all anxious to see what the house is looking like, so I've decided to finally get all caught up on our "before" pictures of the downstairs. If you're just getting caught up, we were doing a small powder room reno and flooded our downstairs! We've since been completely re-doing our living/dining room, and our kitchen.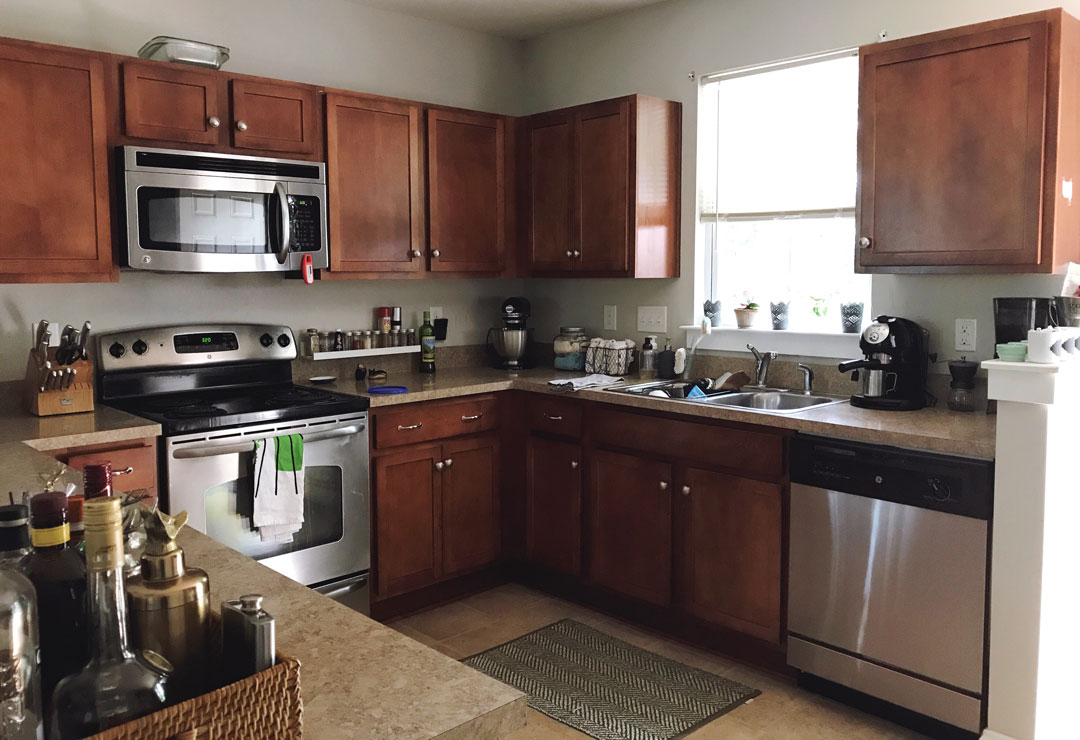 Here's our old kitchen in all of it's glory. A LOT of this room has changed already, but we're still only about halfway there on completing the room. A note about re-doing kitchens: this has been the one room where things really snowballed - if one thing was getting replaced, it often led to something else getting redone too. Cha-ching!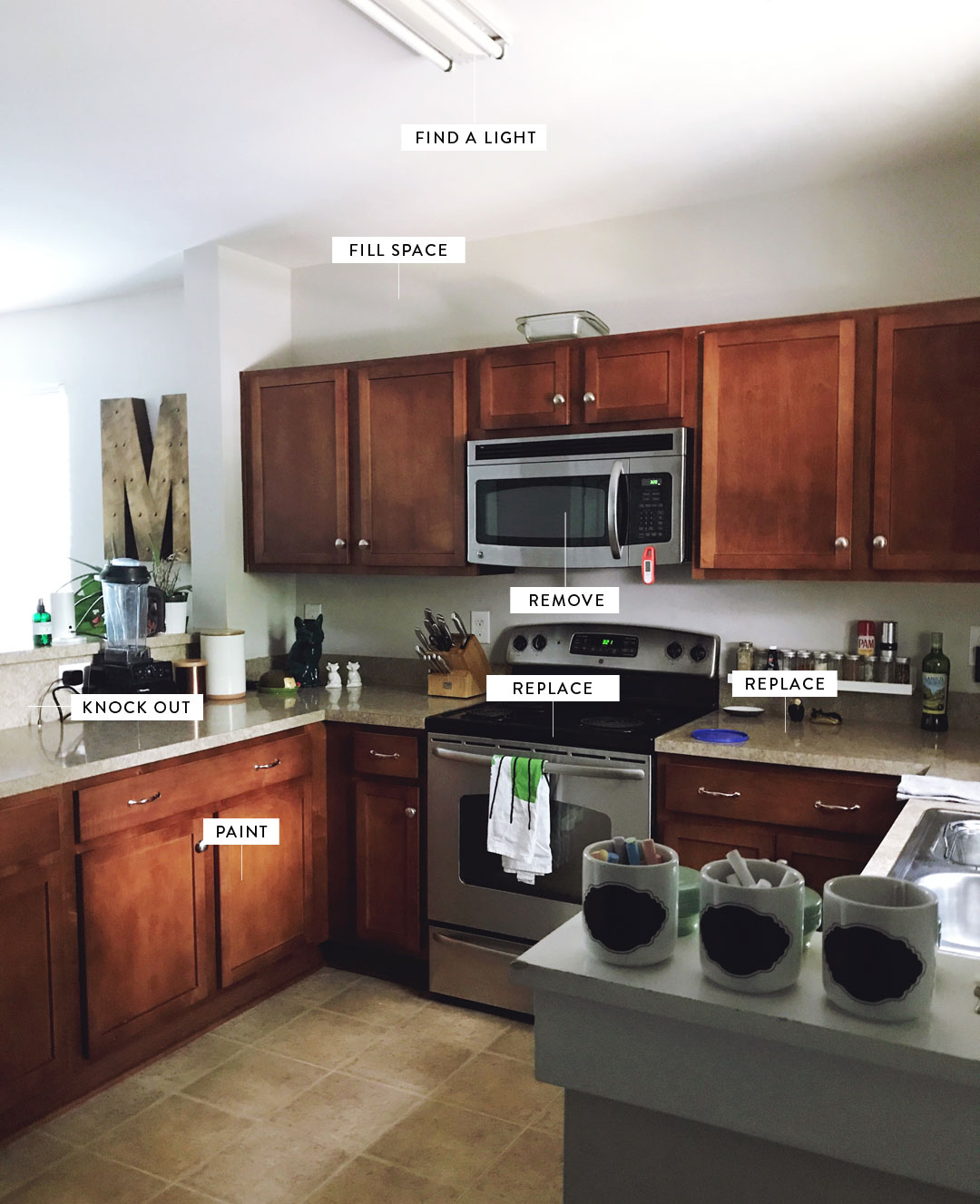 Now, our "old" kitchen isn't really that bad. We had pretty nice cabinets and fairly new appliances. While it was easy to live with for two years, in the end it just isn't our style and needs a few upgrades to feel more "us". We had an awkward bar area that wasn't wide enough to sit at and too tall for any bar stools - so it just collected clutter and blocked off the rest of the house. We've actually already knocked that out and feels so much more open! 
While our appliances looked pretty good, they all had some portion that was broken or didn't work well, so while I was moving them around for the new flooring we decided it was best to just sell and replace them. Our microwave has been broken for a year, so we decided to just remove it and replace with a range hood.
Finally, the cabinets needed a bit of an upgrade. I hate the space left above them and wanted to make that more usable (anything up there just gets super dusty/oily). I also want to add a coat of paint to them to help lighten up the wood that doesn't really match our home.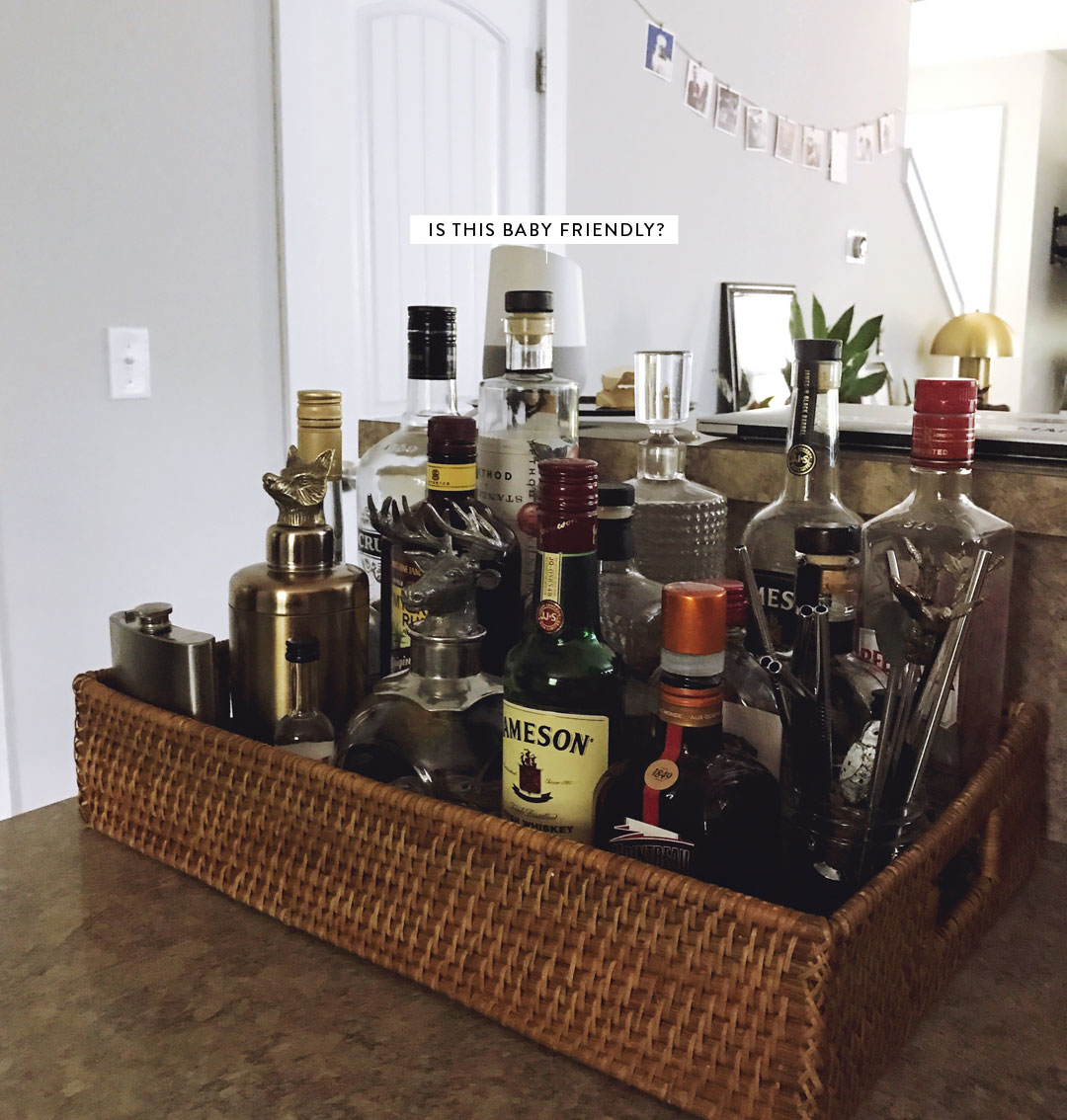 Our counter tops are always getting super cluttered, and it starts off with our very college-looking bar. Is this baby friendly? Haha. Might have to find a new place for this with a baby on the way...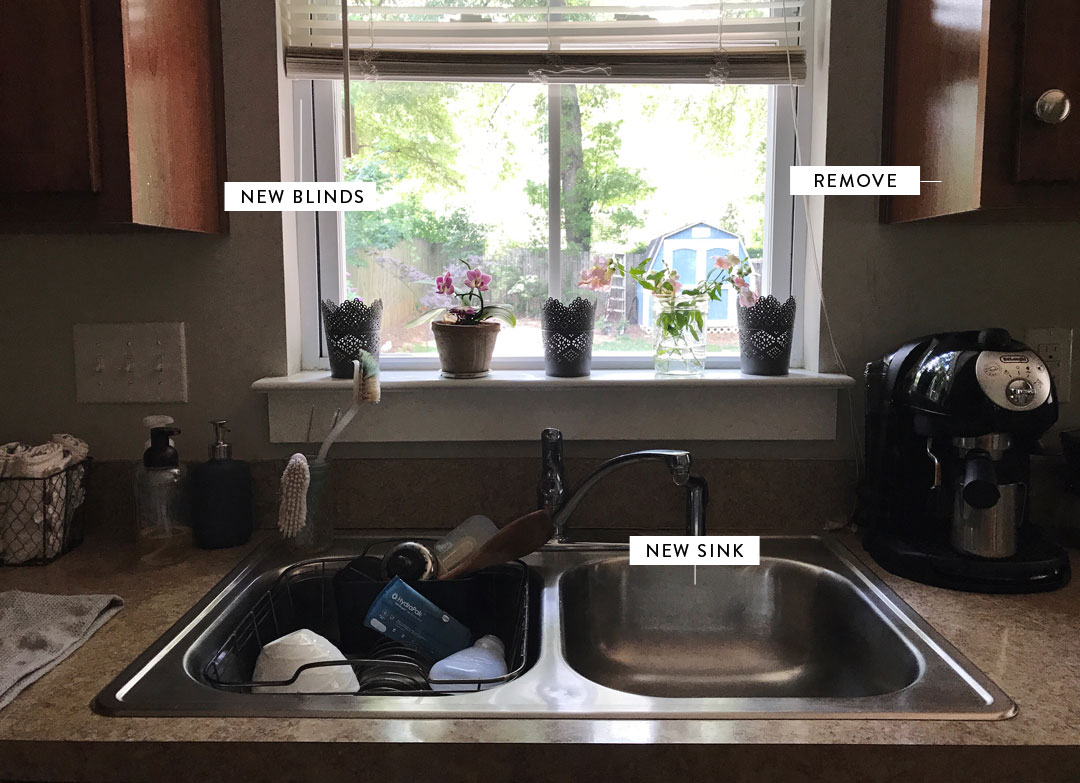 One of the items that got snowballed into this reno is the sink! We were always planning to re-do our counter tops (to a nice white quartz) and realized we'd need to replace the sink at the same time (this one pictured had a lot of gross staining from the previous owners and a bad disposal. I also want to grab a new window treatment for this window, and replace the cabinet over our coffee station with open shelving (that current cabinet has some really awkward shelving that can't be moved and is awful for storing things).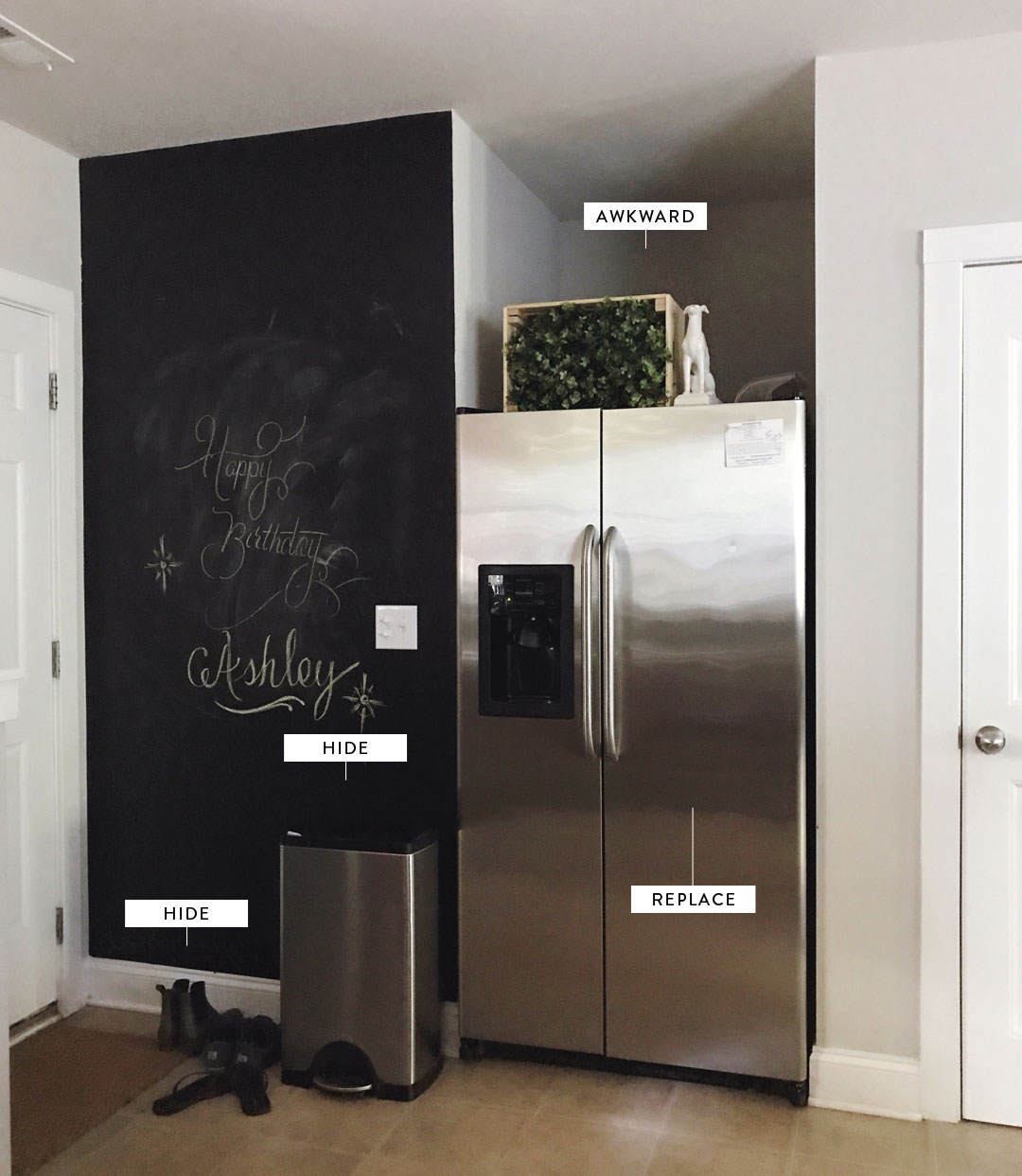 On the other side of the kitchen is our pantry, fridge, and "mudroom" haha. First and foremost I want to do something with that HUGE gap over the fridge - cabinet doors perhaps? I also want to hide our trash can, and potentially add some sort of cubby hole in that wall for our backyard shoes.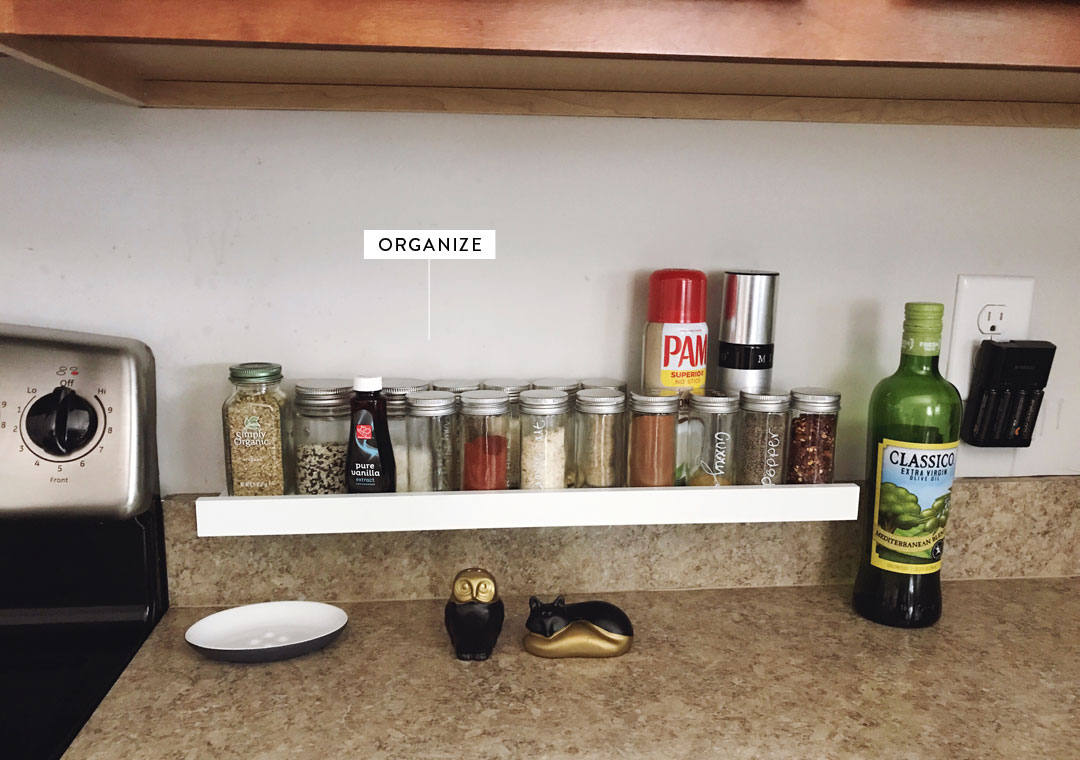 One of the things I want to try to keep in our kitchen is this DIY spice rack I made! It's just an Ikea picture ledge with some amazon spice bottles that I write the names and expiration dates on with a paint pen. Unfortunately, it gets a little unorganized and less cute, so I need to find a way to better maintain it!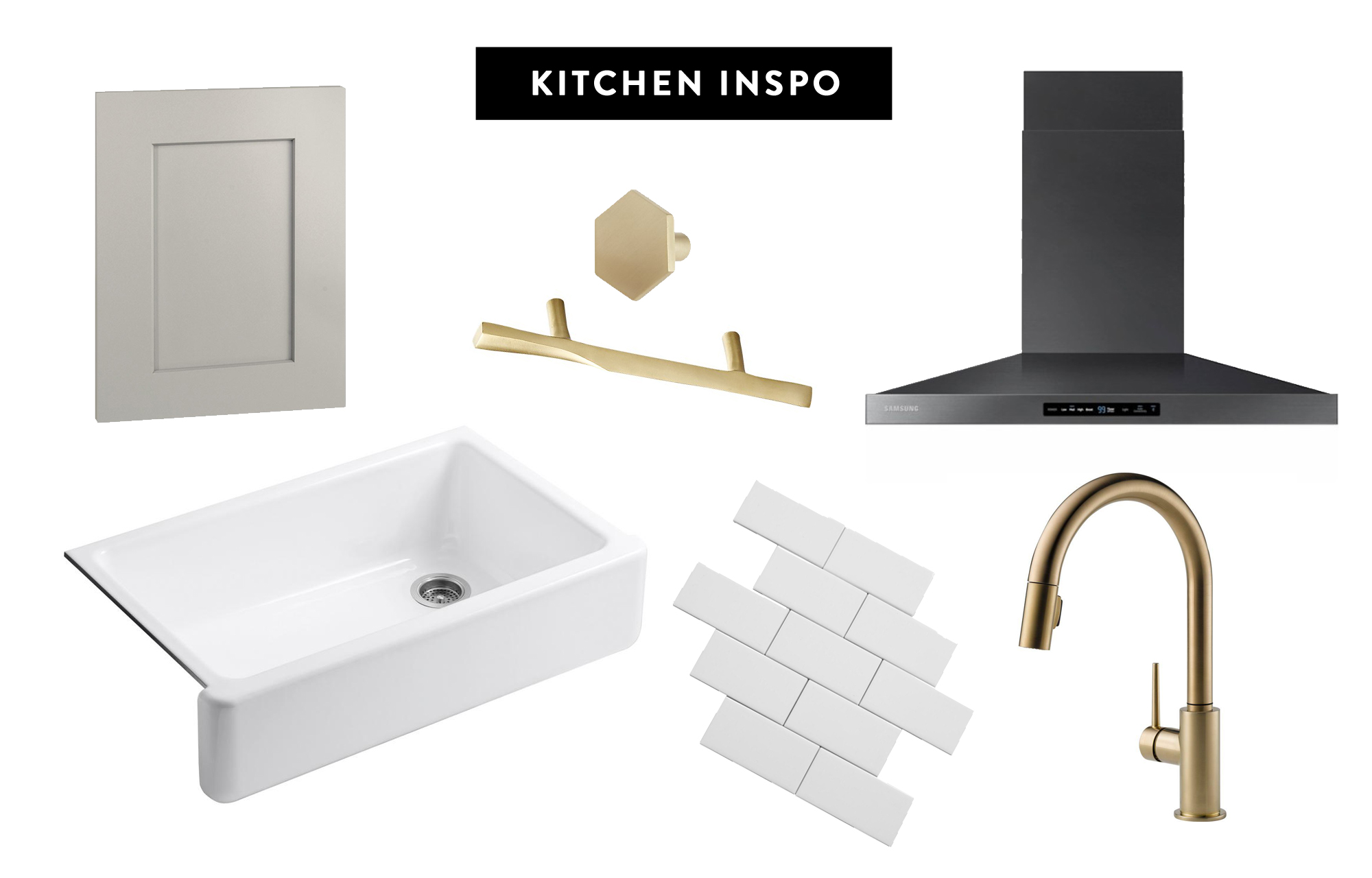 Now that you've seen the before pictures, here's the inspiration for the space. Overall, we want to make the space lighter and brighter, and a little more fun and modern feeling.
Sources: Cabinets / Sink / Knobs / Handles / Backsplash Tile / Faucet / Range Hood (we are attempting to switch over to all black stainless steel - not sure what to do about the range hoods because they are soooo expensive!).