Again, I've fallen a little behind on my posting. It's been a whirlwind couple of weeks over here, but I promise I have a good excuse – Eric and I got engaged!
I'll try not to get all mushy about the new ring on my finger, but I wanted to share my excitement about getting married to this boy I've been with for 8 years now. I've grown up with Eric, and I couldn't be more excited to know that we'll be growing old together. Ok, that's the end of my mushiness. I'll save the rest for the wedding!
When you get engaged, all your friends and family are excited – and immediately ask you a million questions. Some you don't have answers to yet, and some you're just tired of repeating. I thought I'd put together a little "Eric and Ashley Engagement FAQ" of sorts so everyone will have all the fun details of how it happened, what we're thinking for the wedding, etc.
// How'd he propose?!
I had just flown back from a friend's bachelorette party and from visiting family in LA. Eric was picking me up from the airport in Charlotte. Apparently this was when he was going originally propose. However, after a long red-eye flight I was not such a happy camper and just wanted to get home to sleep. That night, we drove back to Durham so I could drop him off at the Raleigh airport the next day so he could head to our friend's bachelor party. We are a traveling couple!
On our way to the airport, Eric suggested we stop in at Parker and Otis for lunch. We always look in at the chocolate counter there before ordering, and I immediately exclaimed how cute these birds nest truffles were. After ordering, Eric chose the farthest spot possible to eat our lunch at, even though the place was empty. I didn't think twice about it. Once we started eating, Eric exclaimed he left some candy in one of his pockets in the car and didn't want it to melt. If you know Eric and his love of candy, you know I wouldn't think twice about that either.
When Eric returned, he gave me a little red box with the chocolate nest truffles I had just picked out. Inside with the truffles was another little box labeled "Bitter Sweets". I figured it was just another candy, but when I opened it – a ring! What followed was such a blur, Eric asked me to marry him – no speech, nice and simple. I of course shed a few tears. Then we started snapping photos!
I sadly had to take Eric to the airport right after, but that gave me plenty of time to catch up with all my family members and friends about the exciting news :)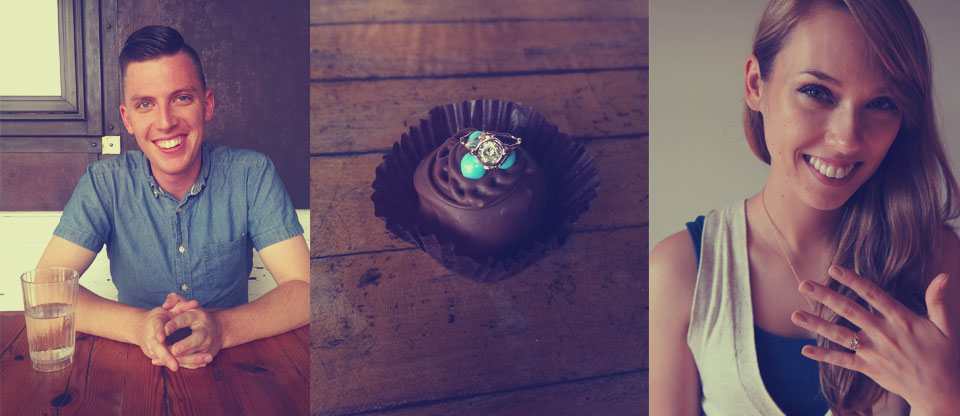 // Were you expecting it?
I think any girl that dates someone for more than couple years is automatically expecting it. In college, getting engaged was the furthest thing from my mind, but once I'd graduated and Eric and I were living together, I was always thinking about it. For the past few years I've been pushing Eric pretty hard to get engaged, and he recently asked about my ring size, so I knew it was coming. I had no idea it would be so spur of the moment though!
// What's your ring like?
The ring is perfect! I'm so proud of Eric for picking out something that is so "me". The band is rose gold and shaped like a tree branch. The stone is the perfect size, and flat so it doesn't spin around my finger. I'm not a huge jewelry person and I was originally nervous about being able to wear an engagement ring all the time, but I barely notice this one while it's on!
// Do you have a date?
We do! Nothing's officially booked of course, but we are thinking about next April
// Where will you get married?
Charlotte! It's the city where we grew up, the city we met in, and where most of our family and friends currently live. We've honestly never talked about getting married anywhere else.
// How's it feel to be engaged?!
Great! Although it's really nothing different. I think the engagement has finally made Eric excited about weddings and marriage in general. He loves using the word fiancee :) It's also been so great hearing all the love and support from us from all of our friends and family!
Now who wants to help me plan this wedding? :)