I spend a lot of my free time out and about exploring new places. Since my stay in Durham is coming to a close this week, what better way to honor it than with a city guide of all my favorite spots. Here's to hoping these lead you to your own new favorite spots in the Bull City!  
Favorite Eats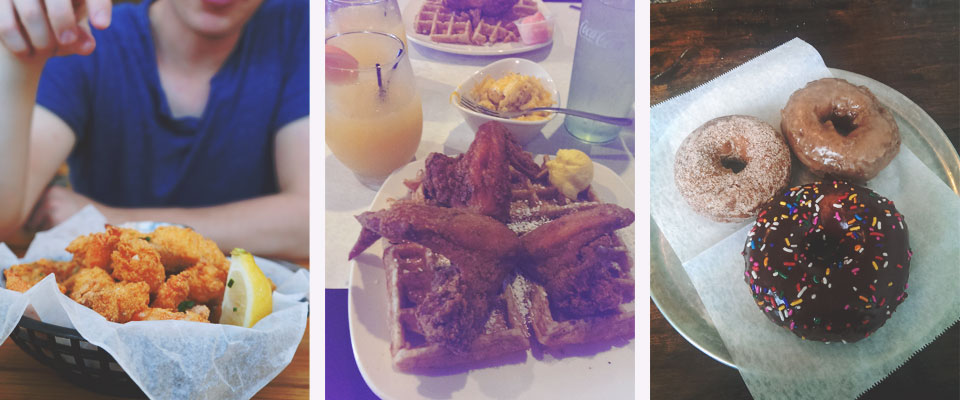 Monuts Donuts
Definitely a contender for one of my favorite doughnut shops in the U.S. What really wins me over though are their bagel sandwiches, which they change out daily. My picks: If they've got em, the Apple Cider doughnut and  "Guac Dirty to Me" sandwich are a must.
Dame's Chicken and Waffles
I finally made it to this iconic Durham restaurant a few weeks ago, and I'm really sad I hadn't tried to go sooner (although I'm sure my body is happy - otherwise I'd be 20lbs heavier!). Be sure to make reservations a week ahead of time, come here on the weekend for brunch, and order anything with their delicious fruit shmears on it. You won't have to eat for the rest of the day! My picks: The Carolina Cockerel with a side of mac and cheese and a mimosa. 
Geer St. Garden
Probably the restaurant I frequent the most in Durham. It's always got delicious vegetarian and vegan specials and lots of tasty Southern cocktails. Also their brunch is one of the best I've had - an $11 buffet that includes a drink and allows me to load up on an entire plate of banana pudding. My picks: the veggie tamales,  The Pile if it's late night, and The Durhamite to drink.
The Pit
This just opened in Durham this year and it's quickly become one of my favorites. I'm no bbq connoisseur, but I love that they offer veggie bbq with a  carolina-style sauce. It's also super affordable for the amount of food you get. We once went in with two friends and got two plates of meat, veggie bbq, four sides, an appetizer, and drinks for $60. Finally, free biscuits and cornbread. Enough said. My picks: Sweet Potato Crackling Corn Bread and Barbecued Tofu.
Parts & Labor
Motorco recently opened this food-truck like restaurant and I instantly fell in love. There's always food trucks out in the area, but I find I'm too indecisive to choose one type of food. I love the variety at Parts and Labor. Go for late-night, grab a drink, and play some corn hole. My picks: Potato Latkes and the Chicken in a Waffle Cone.  
Favorite Watering Holes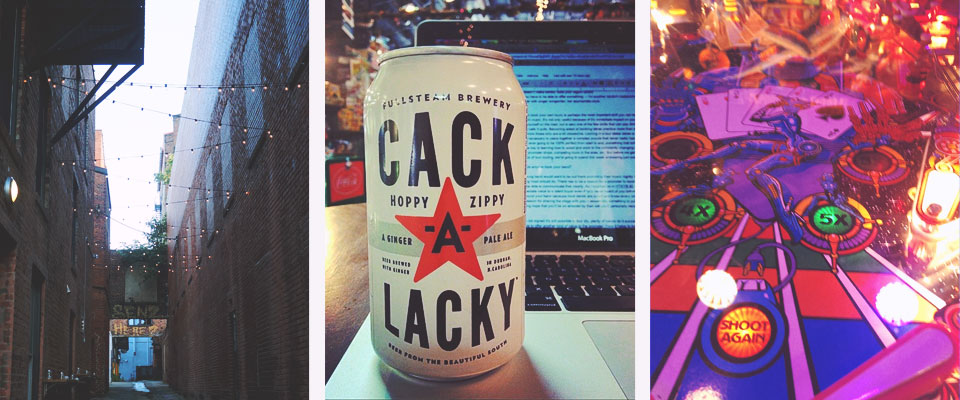 Alley 26
This place was my first introduction to a truly good cocktail. Perfect place for a date night drink, and in the summers you have to make sure to grab a table in the alley. Even if you don't drink, it's fun to go watch the bartenders mix, chop, shake, crack egg whites, and hold flames to many of the drinks they're making. My picks: Their menu is always changing, but for now go for the Staycation or any drink with egg white!
Fullsteam Brewery
I come here on a weekly basis. Tons of good beers on tap, trivia, board games, ping pong, and it's super dog friendly. Only downside is everyone else loves this place too, so it's always crowded. My picks: The Common Good, which has a hint of cider to it.
Surf Club
I don't get to this bar enough. Order a mixed drink and they give you a glass with a healthy sized shot and the mixer in a separate can or bottle, which I just love. They also just built the coolest bocce ball court. My picks: classic Gin and Tonic 
The Social
Another new bar in Durham, this place took over an old music venue a few months ago. Super friendly bartenders, it's never too crowded, and the only bar in Durham with a bunch of old school arcade games. My friends and I love to go for the shuffleboard. My picks: Any drink mixed with their locally made Brood spicy soda (or just the soda on its own!).
Favorite Desserts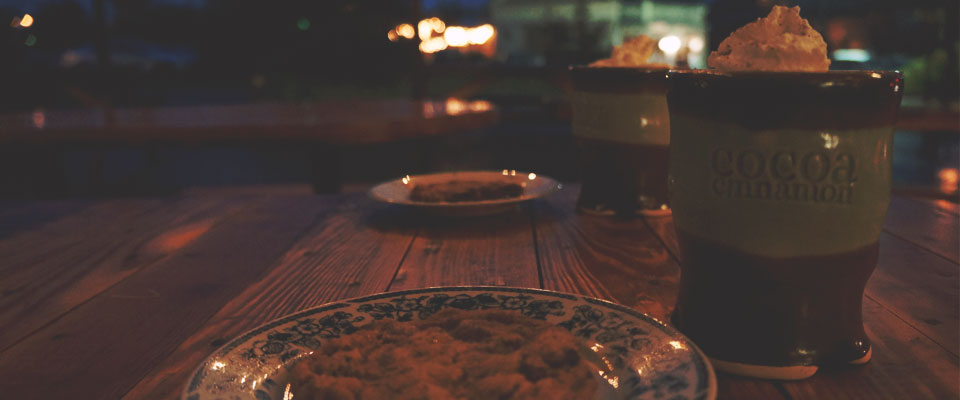 The Parlour
One of my favorite ice cream shops ever. There's always a line, but I think that makes it just that much better. My favorite part is that they have lots of vegan flavors and desserts. My picks: Vegan Salted Butter Caramel (you'll feel better about yourself ordering this over the non-vegan kind!) 
Cocoa Cinnamon
One of my favorite places to head to on a date night or rainy day. The space is super hip, and there are more hot chocolate combinations there than I can even imagine. Half the fun is going to make different combinations of hot chocolate bases with added spices. The tables outside are perfect for big meet ups as well. My picks: Any of the milk chocolate bases with the Cacoa Canela spice added.  
Favorite Things To Do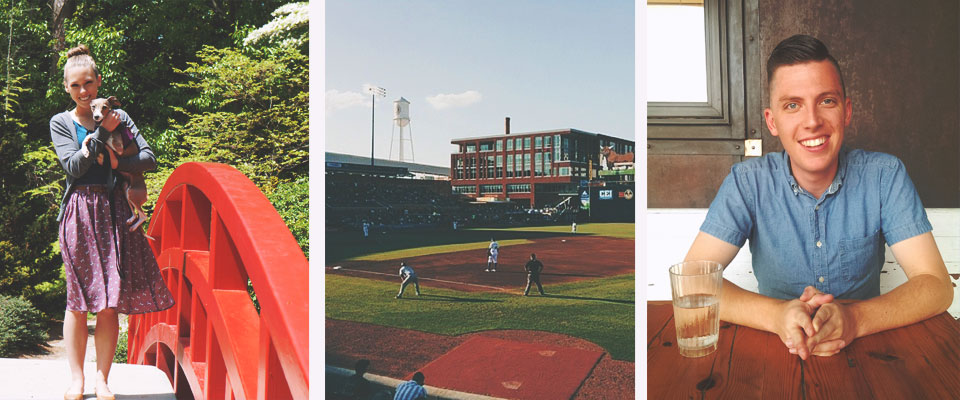 Duke Gardens
By far one of the most beautiful spots in Durham, and one of the best botanical gardens I've been to in NC. My suggestions: Go for a run around the trails in the morning - the place is empty and so peaceful! Or bring a frisbee and picnic to the big grassy area in the back.  
Bikram Yoga Durham
I've tried hot yoga at several places around the Triangle, and this is by far my favorite. Really friendly instructors, super clean and big space, and I live for the scented towels and free popsicles they give out at the end! My suggestion: Try out a weeknight class with Ari or Leilani - they are much less crowded and they give a lot of helpful feedback! 
Durham Bulls Game
I hate baseball, but going to this stadium has become one of my favorite go-to things every summer. The stadium is gorgeous and located in the amazing American Tobacco Campus. It's seriously worth going to a game just walk through there! It was voted one of the number one stadiums for vegetarians and there's a great beer selection. Plus when you get tired of sitting in your seat, you can walk over and watch the game from the balcony of Tobacco Road. My suggestion: Go on Star Wars or bring your dog to Bark Night! 
Parker and Otis
One of my favorite places in Durham - Eric and I even got engaged here! It's part coffee shop, part restaurant, part boutique, part novelty store. I could spend an entire afternoon here looking at all they have for sale. My suggestion: Go for lunch and order a Turkey, Bacon, and Avocado sandwich. Then grab yourself some chocolates browse the Rifle Paper Co. stationary.  
Bella's Favorites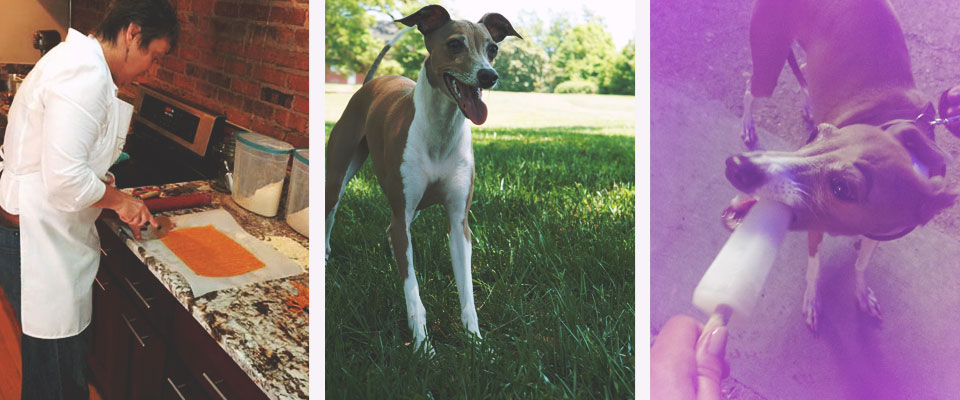 Other End of the Leash
I used to frequent PetSmart for Bella's toys or food until I discovered this amazing pet boutique. The owners are some of the friendliest people I've met in Durham, and truly love dogs. The biggest perk is that all the food and toys sold there are made in the U.S. My suggestion: Grab some of the people and dog friendly treats freshly made in the back of the store!  
*first image from otherendoftheleashdurham.com
Duke East Campus
This is both one of mine and Bella's favorite places to run! Lots of open fields to throw the ball and a ~2 mile trail around the whole campus. My suggestion: Go on a weekend and throw ball near the lacrosse field. You're bound to meet tons of other dog owners walking their dogs!
Loco Pops
Delicious human and doggie popsicles are sold here. Enough said. Bella's Suggestion: the Chicken Pupsicle. 
Favorite Hidden Gems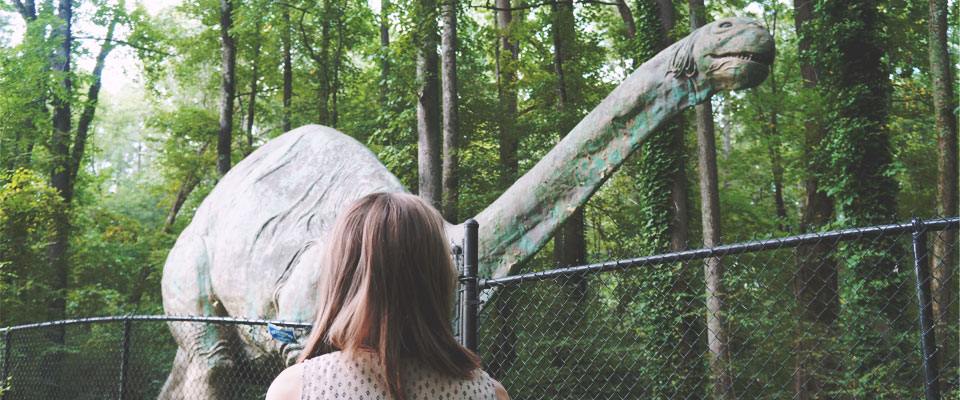 Old Brontosaurus
I love going past the huge Brontosaurus statue at the back of Glendale Heights park. The dino is part of the old Dinosaur Trail from the Museum of Life and Sciences and is always such a surprise! My suggestion: grab some pictures with this guy, your instagram feed will thank you.
Straw Valley
I thought the secret was out about this amazing spot until a friend discovered it last week. This coffee shop is an oasis in the middle of a Walmart shopping center, made up of several modern houses and beautiful gardens. I hear it is now transitioning into a restaurant/wine bar, but still worth checking out just for the surprise of seeing the space. My suggestion: Head to one of the houses to do some work or a date night. The rooms offer lots of quiet space!