Most of you have probably seen our engagement video by now, but I thought it would be fun to give a little behind the scenes tour of how we came up with and shot the video!
The Idea
I came up with the idea after seeing a 1960's-themed engagement photo session. Rather than just a few cute pictures of us in a field with my ring, I love how these photos tell a story and knew I wanted to do something similar. Plus, Eric and I are a bit obsessed with the Mad Men era.  
My amazingly talented friend, Amanda, wanted to do an engagement video for her photography portfolio, so she offered to do our engagement session in video format for us. Amanda's done some video work with me before, as you may remember the slo-mo video we put together for Halloween. 
I don't have a budget to have a wedding video made, so I was really excited to at least have something of the two of us put together! We scheduled a date to shoot (and lucked out with some amazing August weather), and I scouted out a few locations to shoot. We also picked out a song for the video. Eric and I have been longtime fans of She & Him (and anything Zoe Deschannel for that matter) throughout our relationship. So many of the songs fit the style, so it was just a matter of picking one that had meaning for us. 
Scene 1: The Milkshake Date
A milkshake date was one of the first ideas we came up with for the shoot. We did the scene at Pike's diner, which despite being an establishment of Charlotte – I'd never been to before! We went during a slower time of the day, and it ended up being the perfect scene for a 60's date. 
This scene was actually the last one we shot, so we were all pretty tired and cranky. My biggest tip is to spread out the shoots if possible, and do whatever you need to keep spirits high! You don't want evil glares showing up in your video. 
After shooting the diner scene, I wasn't too confident because we'd been so grouchy (especially me!). We ended up giving it one more go and doing some final takes outside of the diner in the Design Center right beside Pike's. I think Eric and I were so tired that we had let our guard down a bit more, because these ended up being the best shots of the entire weekend!  
Here's a few of the ingredients that went into this scene: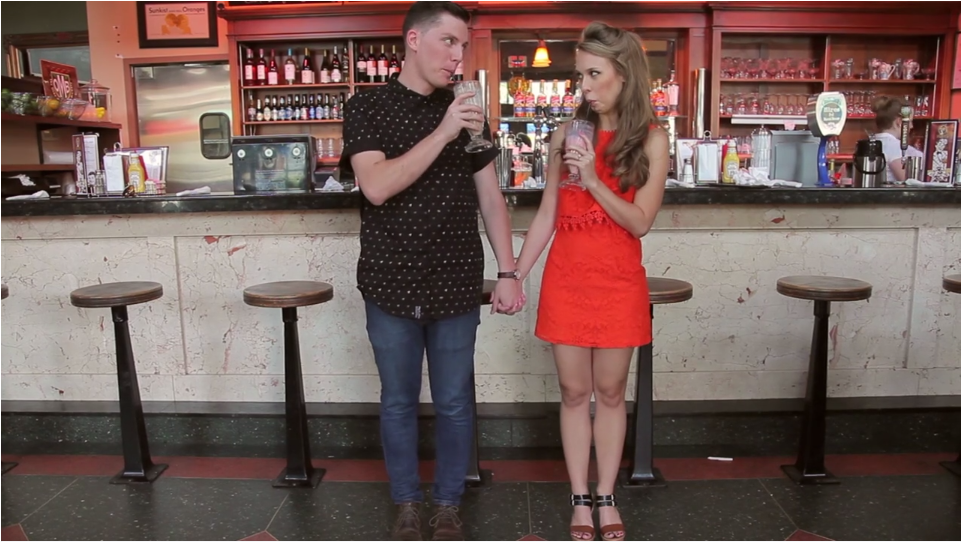 Dress: Topshop // Shoes: Target (similar) // Eric's Shirt: Brixton (similar) // Location: Pike's
Scene 2: The Wedding
This was blatantly taken from the photoshoot we were inspired by, but I loved it so much! It was a lot of fun dressing up and pretending we had just gotten married, and got me really excited for the actual wedding. 
We shot this scene in a park in downtown Charlotte, and thankfully stumbled upon the cutest church courtyard beside it. Every passerby also believed that we were the real deal, so it was fun getting so many smiles and "congratulations!" from complete strangers!
Our wedding outfits were super easy to put together. Eric already owned his suit, which just by chance had a vintage-feel to it. I also wasn't about to drop a lot of money on a second wedding dress, but found this gorgeous one on clearance for only $27! I plan on rewiring it for my rehearsal dinner as well.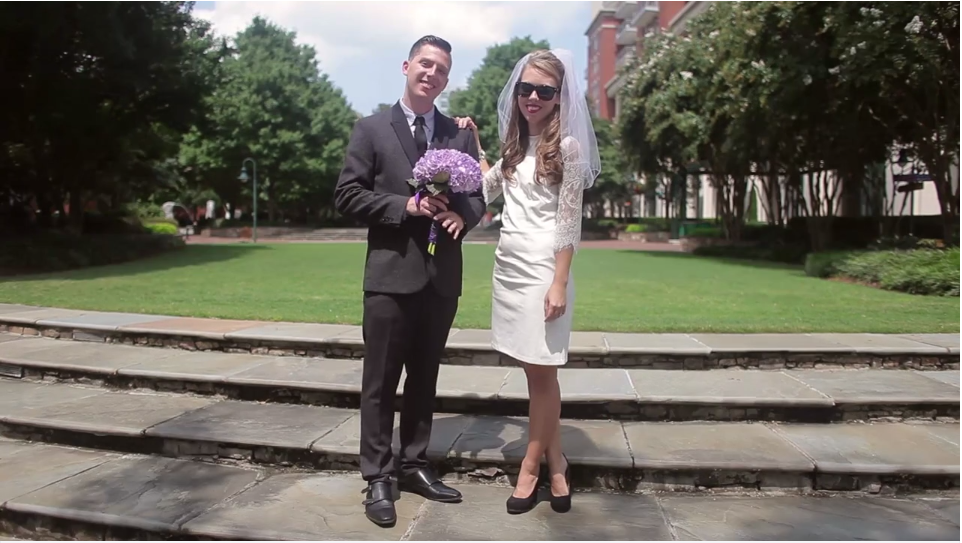 Dress: Modcloth (similar) // Shoes: Target (similar) // Veil: Etsy // Eric's Suite: H&M (similar)
Scene 3: Picnic
I knew I couldn't pass up the chance to use Eric's dad's vintage MG in our video. After debating how we could shoot the car, we decided to do a picnic in a field near his parents house and then drive off in the car at the end. I had yet to go for a ride in this thing, so it was such a blast!
We also knew we wanted Bella in our video for some of the scenes. Funny story: we are terrible dog parents and forgot Bella at the house when we left to do this scene. I frantically called up my sister and her friend (who I thought had a driver's license) and told her she could drive my car to bring her up to the front of the neighborhood. Turns out the friend did not have a driver's license, got lost, and took 30 minutes to drive to where we were! Thankfully we they eventually made it with Bella in one piece and we got some gorgeous family shots right at sunset.
I initially thought of this scene as just another date, but I love how Amanda edited the video to show this as a little scene of post-marriage bliss.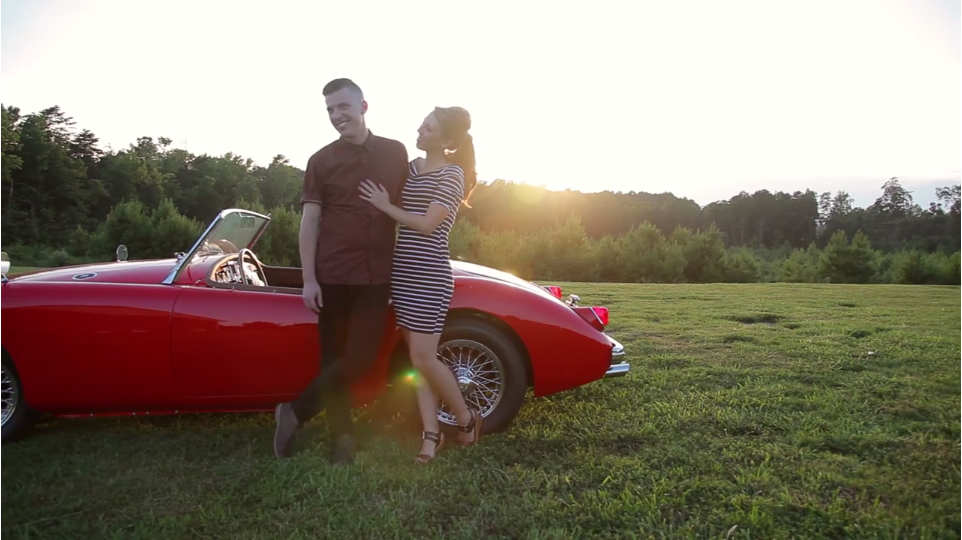 Dress: Asos // Shoes: Target (similar) // Sunglasses: Aldo (similar) // Eric's Shirt: LRG (similar)
Do you love this video as much as I do? Amanda is available for hire, and I highly recommend :)